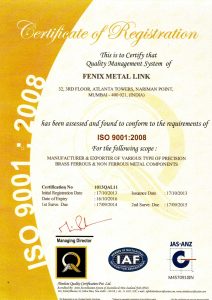 Fenix Metal Link insists upon unmatched quality and excellent customer services at most competitive prices. Our Plant has been installed with latest and ultra modern automatic Manufacturing equipments to produce Precision Components strictly as per International Standards.
Our Quality Control team continuously monitors the products and users requirement right from the productions stage up to the final dispatch.
Our Commitment to quality is evident from the facts that we manufacture the products in accordance with the relevant international standard and have the necessary product approvals.
In response to the Customers specific design and drawings we look for the requirements and goods are supplied accordingly.
Our extensive experience allows us to offer technical support services, from Design advice to Testing and Commissioning of the Product. Due to strict quality control procedures our customers are kept ensured that their requirements are met accurately and consistently.
Quality Matters
Jamnagar has been known as the 'Brass Parts – Brass Components' center of the world. We have ready infrastructure to make all sorts of your needs. Our 9 Engineers Team round the clock ensure impeccable quality for our discerning customers from UK, Germany, USA, Australia and Canada etc. Contact us to know about how can we fulfill your requirements.
Quality Standard
European Standard
(DIN – German Standards)
European Metal Codes
B.S. Material
Codes British Standard
U.S.A.
UNS Material
Codes American Standard
Sweden
S.S. Material
Codes Scandinavian standards
CuZn36Pb2 As
CW602N
CZ132
C35330
SS-5170
CuZn36Pb3
CW603N
CZ124
C36000
SS-5112
CuZn39Pb2
CW612N
CZ128
SS-5168
CuZn38Pb1.50
CW608N
CZ128
SS-5243
CuZn37Pb2
CW606N
CZ131
C35300
SS-5114
CuZn38Pb2
CW608N
CZ128
C38500
SS-5122
CuZn39Pb3
CW614N
CZ121
C37710
SS-5150
CuZn40Pb2
CW617N
CZ122
SS-5163
SS-5246